ABOUT US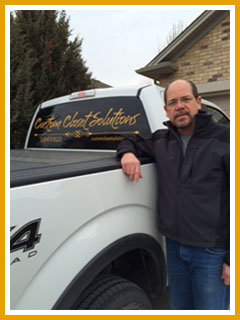 When people ask about us, we tell them that Custom Closet Solutions provides custom storage systems for every room of your home.  We use the highest quality materials, and provide a wide choice of appealing colours, accessories, door and drawer profile options to choose from.  We offer free in-home consultations and estimates, and create custom designs that are both beautiful and affordable.  We will take your storage needs into consideration and provide design ideas that are functional and will help bring organization back into your lives.
 Chris Carter, owner of Custom Closet Solutions, has years of experience in the business professionally installing built-in storage units.  
   "Our goal to is provide our customers with custom storage designs that meet or exceed their expectations, the highest quality products and  professional installation service...all with an eye for detail.  We will go out of our way to ensure your experience with our company is nothing short of extraordinary."
- Chris Carter
OUR MISSION
Custom Closet Solutions is committed to provide knowledgeable, timely, and friendly sales, service and installation.  We promise to provide fair and competitive prices, never forgetting that our customers are the secret to our success.
 Custom Closet Solutions will build and maintain a relationship with our customers, employees, subcontractors and our suppliers based on professionalism, integrity, honesty and fairness.
 Custom Closet Solutions will create a safe working environment in which our employees can be trained, improve their skills, and grow within the company.